Buying a car is connected with a person's identity and opinions, which keep changing as time goes by. Automotive dealers should understand that buyers behavior and their needs change over time. For marketers, this means that large amounts of historical data should be first understood and then new sales are predicted.

One of the biggest challenges faced by businesses today is – what to do with large amounts of data? Artificial Intelligence with Machine Learning can be used to find patterns in large volumes of complex data and drive actions through insights generated. A model built using machine learning algorithms continuously keeps learning with new data of customers, understands customer relationships, works on any errors and learns from them.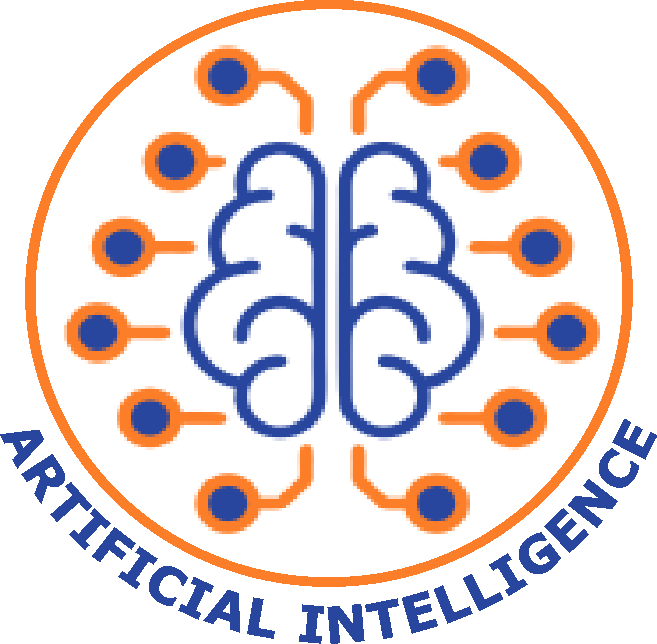 It keeps on training itself. AI completes this entire task automatically without any human intervention required. Hence, automotive manufacturers should build an effective marketing strategy using AI to gain meaningful insights from data.

Some challenges automakers face with customer data:
analyzing and interpreting large volumes of data

understanding the value of different customer segments

targeting new customers while retaining the old ones

enhancing customer experiences

gathering information on competitors and their marketing strategies

limited or a minimal understanding of the impact made by the trends and buying behaviors
AI capabilities include voice recognition, linguistics, video & image recognition, face recognition, emotional recognition, virtual assistants, and predictive analytics. One or more of these capabilities when combined together offer smart automation. With an increasing number of automatic and self-driving vehicles with new models and features, the automotive industry is on a revolutionary change.
AI helps marketing teams to track customer behavior by learning and memorizing their individual preferences and also helps in predicting their future needs. AI helps in:
creating 'Buyer Personas' by which marketers can understand customer habits, spending motives,

tracking customer behavior across the web,

connecting with various data sources like third-party, brands, social media pages, websites, data management systems, emails and more.,

aggregating and cross-verifying data gathered from various sources,

leveraging this data on an individual/personalized level as we on a group/ mass level, and

driving actionable events through automatic customer engagement via multiple channels based on a customer's individual journeys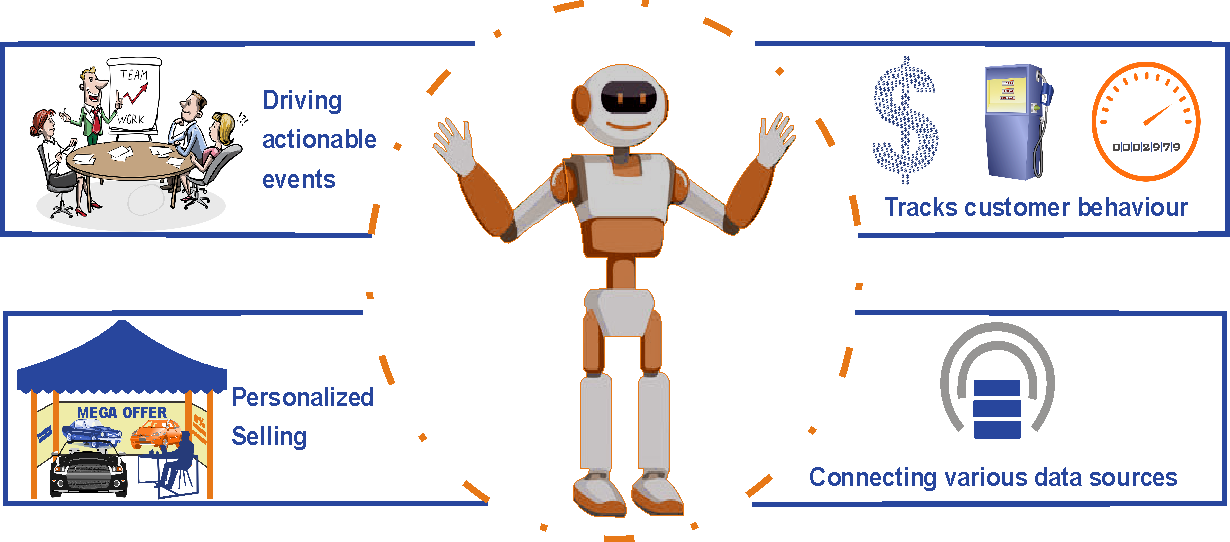 By using predictive models, engagement can be automated depending upon the customer's responses and individual offers can be sent to different customers. Selling becomes more personalized and automakers can even check the online buying pattern for a specific model of the car. AI-based predictive analytics also helps automotive marketers to check the number of people who clicked on the video of the new car. Marketers can even find out a list of potential customers who must be in need of that particular vehicle. By using the behavioral data, AI-based tools can help marketers to identify customers who are willing to buy a certain car model and thereafter get in touch with them before their competitors do. A single AI platform can do all this without any human monitoring.
As customer decision-making and purchasing cycles are long in the automotive industry, marketers need to track potential customers for longer periods. Automakers should understand customer needs, choices and the entire journey to ultimately give him/her what he/she wants. Making them happy throughout their journey starting from visiting your site till after-sales, could help you retain them
Automakers have to create a nice blend of both internal & external information sources that relate to fixed and variable marketing spend. It allows them to better understand which strategy works and which doesn't. If the marketers are able to manage their fixed and variable spend, they can easily concentrate on more targeted campaigns and drive more customer engagement.
McKinsey suggests three facets that are important for an AI-based transformation of automotive sales & marketing team: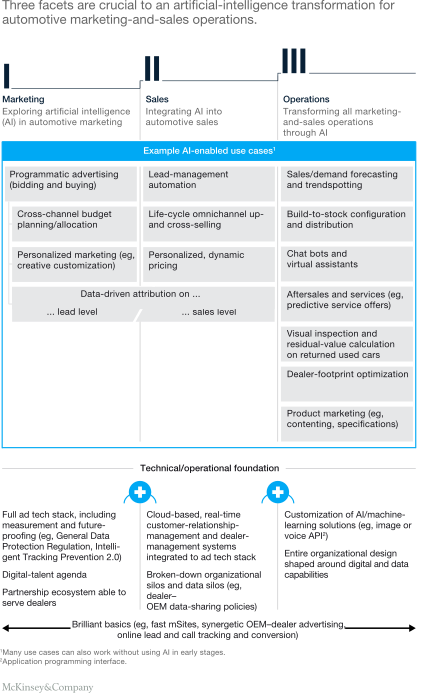 To create engaging marketing strategy, marketers need to visit social media pages to understand how customers perceive a brand and what they are looking for. AI monitoring tools help marketers understand customer sentiments, segregate customer information, understand trends and patterns.
AI-powered intelligent messaging systems enhance overall customer experiences. These systems can register customer feedback and help marketers suggest preferences on the basis of buying habits. AI-based messaging tools help marketers to send target messages and push notifications about events, capture leads, help customers to find relevant content. AI helps in optimizing the content based on key insights and deep analysis and help boost traffic to the site.
Investing more in AI-based marketing platforms will allow marketers to offer enhanced customer experiences and provide personalization with efficiency. In other words, building an effective marketing strategy using AI could help automakers to be more connected with the customers and have a better relationship with them.