Healthcare industry needs technology advancements to maintain value-based care for every patient. One of the best applicable technologies is Natural language processing (NLP). The most useful application of NLP technology in the healthcare industry is clinical documentation. It includes patient report status, past and present medical history, symptoms, and diagnoses. Natural language processing in healthcare industry can help in transforming raw data into meaningful insights to improve healthcare outcomes.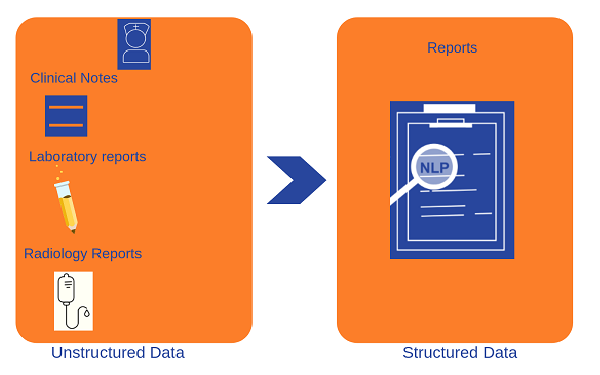 Natural language processing could be broadly described as the processing of a computer algorithm to identify and extract information from unstructured data, like speech or written text and summarize the this information into structured data.
Some of the tasks that NLP can perform are:
Summarizing lengthy unstructured clinical notes

Mapping useful data from unstructured data into structured data in electronic health records (EHR)

Converting data from machine-readable formats into natural language for reporting and educating

Answering text queries through natural language interface

Optimize the images into meaningful insights and reports
In traditional healthcare system, physicians are spending more time on the documentation activities, like billing and regulatory procedures. While most of these activities are mandated by law, nevertheless, all these activities reduce physicians time in attending to patients. The natural processing technology can automate such backend tasks like documentation, reporting, and billing and present them to the physician for final approval. Also, the NLP technology helps the physicians in unlocking useful data. In the current scenario, physicians do not get useful data at the time of need because of the way data is stored in unstructured formats, like improper clinical notes etc.. Using natural language processing in healthcare, physicians can gather all possible insights from such unstructured data just-in-time  and can take accurate patient care decisions.
As I see foresee, natural processing technologies could become a backbone for the healthcare industry in the way of making accurate decisions and thereby, enhance the overall quality of healthcare provided to  the patients.