More than a score articles have been published online that speak of the applications of Artificial Intelligence in Healthcare. Some of them have done an in-depth study of these AI applications and also, have projected savings in terms of time and money.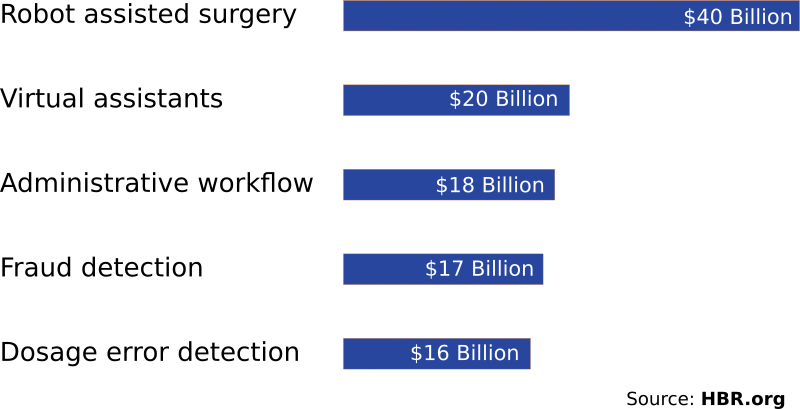 For example, a Harvard study has identified top 10 AI applications with projected savings – some of which are depicted in the adjacent visualization.

As a Healthcare provider, if you are planning to use Artificial Intelligence, where do you start?
Do you start with the maximum projected savings that might result from a certain AI application? Or,
Do you start with the major pain points in providing Patient care and see how AI could address them? Or,
Do you start with your employees capability in designing and implementing new products and services? Or,
Do you start based on what products your organization has successfully launched over the previous years? Or,
Do you start based on the volume of data that your organization has accumulated over years and looking to extract actionable intelligence from that data using AI?
Commercial Off The Shelf (COTS) IT applications might help in automating certain mundane tasks, like Patient's registration etc.. But, to design and implement an AI application, it requires data that is specific to the Healthcare provider. In other words, it implies a need for the AI implementation partner to work in tandem with a subject matter expert from the Healthcare provider.
Hence, it seems logical to me to start building AI applications either based on employees capability or the new products and services launched previously.
Note: I'm using the word capability as an amalgam of Knowledge (what), Skills (how) and Abilities (where/ wisdom to apply knowledge and skills).
With a clear understanding from where to start, next question is what Artificial Intelligence application you could start designing and implementing?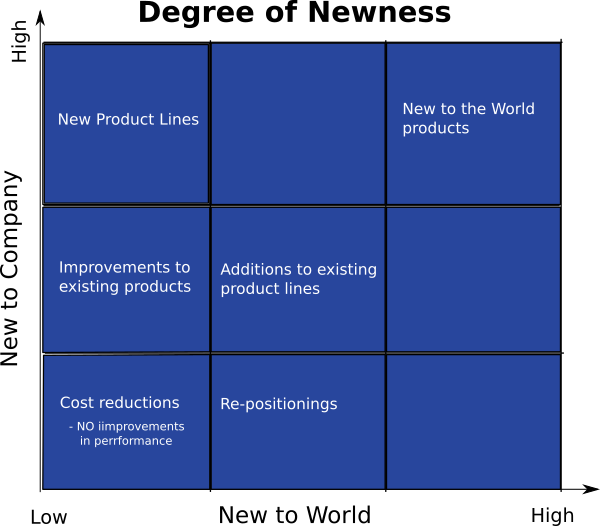 For both the starting points i.e. Employees capability and Previous launches of new products/services, I suggest to use the perspective of Degree of Newness. This perspective was proposed in 1980s by Booz-Allen & Hamilton for categorizing innovations or new products (incl. services). This perspective is presented in the adjacent sketch.
As an example of how to categorize AI applications across the Degree of Newness, we use the below AI applications as researched by the Harvard team in their study and the Engineering.com article:
For a detailed explanation of each of the application with projected savings for some, pl refer to the Harvard's study here and Engineering.com article here.

The chart below shows how AI applications as listed above could be categorized across Degree of Newness.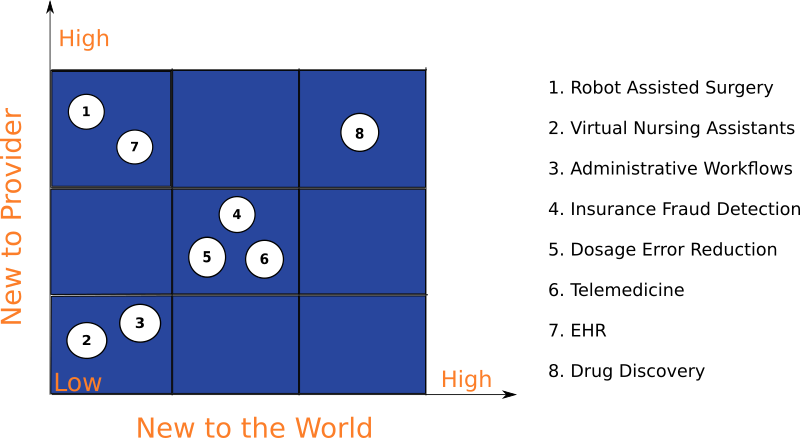 A similar chart that categorizes the previous launches of new products and services should be built and compared with the above chart that was built using AI applications.
The result of comparison might suggest the specific AI application that your organization could start with or at least provide guidance on what type of AI application you could start with.
Additionally, for assessing employees capability, I suggest you to identify your organization's core competencies.